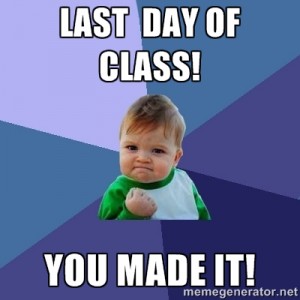 Today, we will have presentations from these folks:
Remaining To-Do's
By 11:55 PM Wednesday, May 7
Go to Scholar and check your grades for the in-class writing

for Project 3 (your blog posts). Remember that your blog posts should have been posted by 5 PM on the day after each class session. If you posted a blog post by the deadline and have a zero, email me by Wednesday, May 7 with the date for the blog post and the link to the post on your blog.

Turn in your work for Project 3

: (1) your Remix project itself, (2, optional) any presentation materials you want me to review (e.g., if you made slides), (3) your reflection memo. Go to the Assignments tab in Scholar, choose Project 3, and post your work by 11:55 PM Wednesday, May 7.
By 11:59 PM on Thursday, May 8
By noon on Saturday, May 10
---