Presentation Sign-Up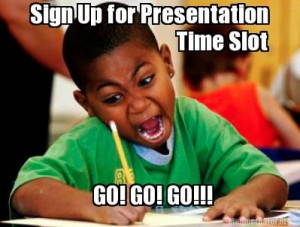 Tuesday, 4/22 (Earth Day), I will open the Sign-up Tool in Scholar, where you can sign-up for a presentation time slot. In an attempt to give everyone a fair shot, the slots will all open at 3:35 PM. For more information on what you need to do during your presentation, check the blog post from last class session.
Working in Class
After you sign-up for your presentation slot you have the rest of the class period to work on your project. If you have questions, let me know. I will wander around the classroom, but I will try not to interrupt your work so that you can concentrate.
In-Class Writing for 4/22
Be sure to write and publish a blog post for today that talks about what you have accomplished since your last post and why you did what you did.
---