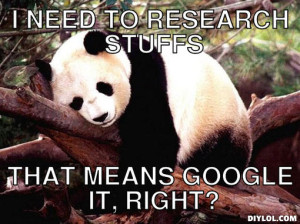 Because I will be in Indianapolis, class is working online this week (3/18 and 3/20). Office hours are canceled for this week.
For Thursday, March 20, you will focus on gathering sources for Project 3. At the end of your work for this session, you should have completed the project's "Step 2. Do some preliminary research on your story." You can look back at the description of Step 2 in the assignment for additional information and an example. Here are the tasks that I want you to complete for Thursday, March 20.
Reading
Read Chapter 4 of Writer/Designer. The chapter covers how to collect multimodal sources and assets, ethical issues to consider when collecting assets, and ways of citing multimodal texts depending on a project's genre and rhetorical situation. We will talk about the issues of fair use and permissions more next week. You can hold any questions you have about those topics until Tuesday, 3/25.
Researching
Go to the library or go online and find three different (and credible) versions of the story you will explore. Evaluate the credibility of your sources with the information on pp. 58–60 in Writer/Designer. At least one of your resources needs to rely primarily on the linguistic mode of communication.
You will also need to find assets (see pp. 61–62) as you work on this project. Depending upon the story you are remixing and upon the form, genre, and tools you are using, you may need to find sound clips, video clips, photographs, cartoons, and so forth. As you conduct your research to locate three credible versions of the story you will remix (your sources), go ahead and collect any assets you find that you think you will use later.
I suggest you create a Google Doc named something like "Possible Assets" and just add links and a short annotation to that page as you find resources. Alternately, you might clip info to Evernote or use a bookmarking service like Diigo. Use whatever method you like, but save any cool things you find so you don't have to search for them later. See the assignment on pp. 62–63 ("A Multimodal Annotated Source List, Part 1") for the information to include in your annotations. NOTE: Finding assets is not a requirement for this week, but you will find it pays to keep track of possible assets that you find. Nothing is more frustrating than knowing that you saw something you could use and then not being able to find it again.
Writing
You need to write a blog post about the research you've done. Here's what I will be looking for in the two parts of your blog post:
What I Did
Tell us what sources you found for your story. You need a minimum of three versions of your story, at least one of which should rely primarily on the linguistic mode of communication.
If you have done extra work (like finding some useful assets), you can list or describe that information here too.
Why I Did It
Tell us why you chose the sources that you did for your story. Reflect on the credibility of your choices (see pp. 58–60) as you talk about why you selected the resources.
Again, some tips for your blog post
Some of the WordPress themes are not displaying the HTML tables properly, so if you run into trouble just use headers for this week.
Don't stress about your posts. They don't need to be perfect. They are public, so make sure you write things you are comfortable with others reading—but don't spend hours writing them. I would expect you to spend no more than 15 to 20 minutes writing (30 as the absolute maximum if you have lots to say).
If you're not sure about something, make your best guess. Try your best, and you'll be fine.
Your choices are not permanent. If you realize later next week that you need to change one of your sources, you can adjust. People often need to revise their plans once they have begun work on a project, but your primary sources should be solid by Thursday, 3/27.
Sharing
Once you have written your blog post, add the link to your blog post for Thursday in the Project 3 discussion area. To help organize the posts, add the date and a few words on your topic with your link. For instance, I might post something like "For 3/20, I found three resources related to The Gettysburg Address."
Choose the posts for 3/20 of at least 2 other people, and read their related blog posts. Add a response on G+ to their plans for Project 3. You can give them encouragement, share some ideas, ask questions, and so forth.
I want to make sure everyone gets a response, so please comment on the link of one person who hasn't had any replies yet and one person who has had no more than 1 comment. You may read and share feedback with more than two people, of course. Participation and collaboration will help with this project.
Getting Help
I will be in sessions and presenting on Thursday, March 20, so I may not see any questions you have about this activity until late in the evening. Email me if you have a question, and I will respond when I can. Generally though, just do your best work. Guess if you're not sure. You have until 11:55 PM on Saturday, 3/22 to get your blog posted. Be sure to email me your informal pitch by 11:55 PM on Sunday, 3/23.
Homework
By 11:55 PM on Sunday, 3/23, email me the details on your topic. Consider your message an informal pitch. Tell me your topic, the form/genre you have chosen, and anything else you think I should know about your choice. I want enough information to "approve" your topic and plan for the project.
Read Chapter 5 of Writer/Designer. Since you are working independently, you do not need to worry about the information in the reading on assembling and working with groups.
We will also talk about your pitches, which you will give on Thursday, 3/27, so review "Step 3. Pitch your project" from the project assignment (and the related pages in the textbook).
---